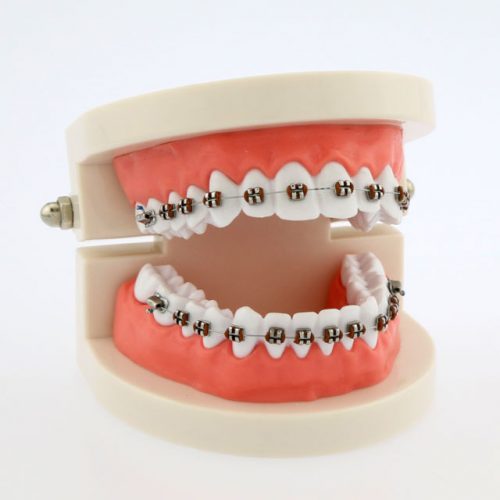 Metal Braces – Traditionally braces have been made out of metal. Stainless steel is the most commonly used metal. It is sometimes combined with nickel titanium or gold if a person is allergic to nickel. The two main types of metal braces are:
Self-ligating Braces – Self-ligating braces differ from conventional braces because they have their own mechanism for connecting to the archwire and hence do not require ligatures or elastic bands. They exert less pressure on the teeth. Treatment with self-ligating braces takes less time and often tooth extraction is avoided. Self-ligating braces are glued to the teeth and therefore the teeth should be cleaned regularly for the braces to work properly.
Viazi Braces – Viazi is a trademarked system of dental braces. It uses triangular brackets and square wires instead of round wires used with traditional brackets. With Viazi braces the crown and root of the teeth are moved at the same time and comparatively less force is used which causes less pain. Viazi braces take around one year to straighten and align teeth. Conventional braces take around two years for the same treatment.
Lingual Braces – Lingual braces are made of metal and attached behind the teeth. They are "invisable" to most people because the braces are not visible from the front view. Lingual brackets are custom-made for each patient because the back side of each patient's teeth are differently shaped. Specially trained orthodontists provide treatment with lingual braces. Treatment with lingual braces can take longer than with conventional braces and is often more costly. At the start of treatment, the patient may experience discomfort and irratation against the tongue since the braces come in direct contact.
Ceramic and Tooth-Colored Braces – Ceramic and tooth-colored braces are made from composite material. They are not as noticeable as metal braces and are an ideal choice for those who are concerned that the braces will affect their looks. Ceramic braces do not stain easily. The elastic ligatures may stain but these are usually replaced during your monthly visit to the dentist. These braces are more comfortable and cause lesser gum irritation as compared to metal braces. Ceramic and tooth-colored braces cannot be used for treating teeth that require a lot of force or pressure to align.
Mini-Diamond Braces – Mini-diamond braces are made from stainless steel. Their chief advantage lies in cosmetic appeal. These braces are 30% smaller than traditional braces and hence are more comfortable to wear. They are also less visible. With mini-diamond braces you do not have to worry about a metallic smile. Orthodontists offer multi-colored ligatures to hold these braces together. The colors can be changed during each appointment with the orthodontist. This idea of using different-colored ligatures makes these braces popular with children.
MOST INSURANCES WELCOME AND MAXIMIZED!
NEW PATIENT SPECIALS & FINANCING OPTIONS AVAILABLE.
Contact us and schedule your visit today.
The Proof is in Our Patients

"Best dentists I've taken my family to. They are very skilled and go the extra mile for every single patient. They definitely know how to make it an easy experience on the kids too. Each kid says, "I had a good time," at the dentist... Very comforting to have considering some of the horror stories we have experienced with other local dentists."
"Always courteous and friendly staff. The wait time getting into the Dentist is never long. The dentist will take the time to discuss what is going to be done. Also, they will help you relax if nervous about seeing the Dentist."
"When I started coming here I needed a lot done. What I love the most is how well everything is explained and broken down. We made a plan based on what was most important and I really appreciate that they take the time to do that. I have had nothing short of a great experience every time I'm here and the whole staff is friendly and amazing at what they do. If you're looking for a new place I highly recommend NuYu!!"
"NuYu Dental is great! The staff is super friendly & very helpful! Dr. Kim & the staff always make you feel that they have done their best to tend to you during your appointment."
$150 for an Exam, X-Rays, Regular Cleaning, and Fluoride – a $349 Value (*in the absence of gum disease)
Emergency Exam, and X-rays: $59
Free Consultation and $500 off
OUR LOCATION
NuYu Dental of Round Rock, TX
| | |
| --- | --- |
| Monday | 10:00 AM – 6:00 PM |
| Tuesday | 10:00 AM – 6:00 PM |
| Wednesday | 8:00 AM – 4:00 PM |
| Thursday | Closed |
| Friday | 8:00 AM – 4:00 PM |
| Saturday | Open Select Saturdays! |
| Sunday | Closed |