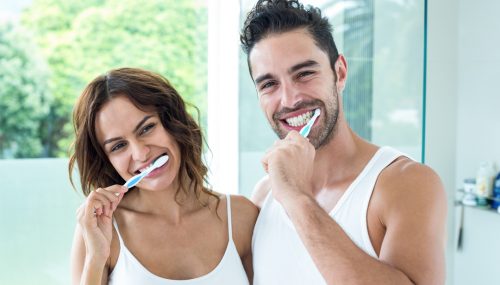 Dental cleaning is the removal of dental plaque (a soft, sticky, bacteria infested film) and tartar (calculus) from the teeth. Dental cleanings are necessary to prevent cavities, gingivitis, and gum disease. If left untreated, severe gum disease can result in tooth loss. Cleaning and polishing of the teeth leaves the surfaces of the teeth clean and smooth so that bacteria are unable to stick to them.
The dental hygienist or dentist will use specialized instruments to gently remove these deposits without harming the teeth. First, the dental hygienist will use an ultrasonic device that emits vibrations to knock larger pieces of tartar loose. The ultrasonic device sprays a cooling mist of water while it works to wash away debris and keep the area at a comfortable temperature. Next, hand tools called scalers and curettes are used to manually remove smaller deposits and smooth the tooth surfaces. These tools are curved and shaped to match the curves of the teeth. Once all the tooth surfaces have been cleaned of tartar and plaque, the teeth are polished using a slow speed hand piece with a soft rubber cup that spins on the end. Prophylaxis paste which is a special gritty toothpaste-like material – is applied to the teeth to make them shiny and smooth. Your dental hygienist or dentist may also apply fluoride to the teeth to help strengthen the tooth enamel.
Cleaning & Prevention
Professional Cleanings
Dental Examinations
Digital X-Rays
Gum Disease
Dental Hygiene
MOST INSURANCES WELCOME AND MAXIMIZED!
NEW PATIENT SPECIALS & FINANCING OPTIONS AVAILABLE.
Contact us and schedule your visit today.
The Proof is in Our Patients

"Best dentists I've taken my family to. They are very skilled and go the extra mile for every single patient. They definitely know how to make it an easy experience on the kids too. Each kid says, "I had a good time," at the dentist... Very comforting to have considering some of the horror stories we have experienced with other local dentists."
"Always courteous and friendly staff. The wait time getting into the Dentist is never long. The dentist will take the time to discuss what is going to be done. Also, they will help you relax if nervous about seeing the Dentist."
"When I started coming here I needed a lot done. What I love the most is how well everything is explained and broken down. We made a plan based on what was most important and I really appreciate that they take the time to do that. I have had nothing short of a great experience every time I'm here and the whole staff is friendly and amazing at what they do. If you're looking for a new place I highly recommend NuYu!!"
"NuYu Dental is great! The staff is super friendly & very helpful! Dr. Kim & the staff always make you feel that they have done their best to tend to you during your appointment."
$150 for an Exam, X-Rays, Regular Cleaning, and Fluoride – a $349 Value (*in the absence of gum disease)
Emergency Exam, and X-rays: $59
Free Consultation and $500 off
OUR LOCATION
NuYu Dental of Round Rock, TX
| | |
| --- | --- |
| Monday | 10:00 AM – 6:00 PM |
| Tuesday | 10:00 AM – 6:00 PM |
| Wednesday | 8:00 AM – 4:00 PM |
| Thursday | Closed |
| Friday | 8:00 AM – 4:00 PM |
| Saturday | Open Select Saturdays! |
| Sunday | Closed |