Compare our fees to the average cost of the same FDA approved implant across Houston, TX:
Average Price for Implant Placement in Round Rock, TX
Nuyu Dental's Special Pricing
Contact Us To See How Much You Can Save!
To take advantage of this offer, click below to print this special:
Contact Us For Pricing (Per Surgical Placement)
Restoration must be performed by NuYu Dental for offer to be valid.
*All parts are FDA approved.
*OFFERS VALID WITH IN-HOUSE FINANCING.
*OFFERS VALID FOR NEW PATIENTS ONLY AND WHEN CURRENTLY RUNNING ON WEBSITE.
X-RAYS ARE NON-TRANSFERABLE unless paid for in full. ALL OFFERS ARE SUBJECT TO REMOVAL FROM WEBSITE AT ANYTIME. OFFERS ARE NOT TO BE COMBINED WITH ANY OTHER OFFER. SOME RESTRICTIONS APPLY, PLEASE CALL FOR DETAILS. (713) 231-9276
Details: *price is per surgical implant
#1 Implant Dentist in Round Rock, TX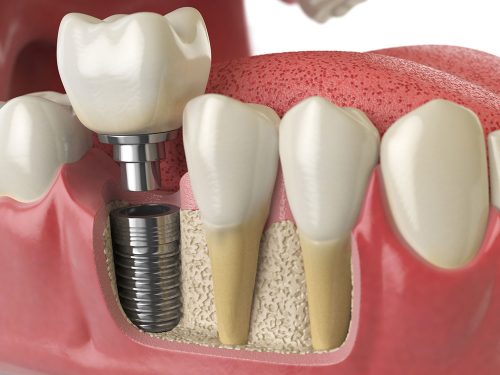 At NuYu Dental in Round Rock we are offer superior dental implants to improve our patients oral health and smile. Our Round Rock dental office dentistry has implant specialists who can improve our patients overall health, while helping them gain the confidence that comes from a well-functioning smile that looks good and feels natural. Dental implants placed by our expert implant dentist might be right for you, we encourage you to contact us to schedule an initial consultation and learn more about your implant process.
Affordable & Modern Dental Implants
An accident, injury, or disease can cause tooth loss. Having an incomplete smile may damage your self esteem and cause oral health problems. Without a replacement tooth, the remaining teeth shift and the bone can start to deteriorate. Dental implants can replace missing teeth and allow patients to lead the full, active lives they deserve.
What are Dental Implants?
A dental implant is an artificial tooth root which acts as an anchor for replacement teeth. Shaped like a screw, it is surgically placed into the jawbone to secure a replacement tooth or bridge in place. Stable and permanent, implants do not rely on neighboring teeth for support. They are an ideal tooth replacement procedure because they look and feel like natural teeth. Studies show that dental implants have a 95 percent success rate in most cases.
Why Choose Dental Implants From NuYu Dental
Implants are great for patients who are unable to wear dentures. Instead, the dentist will place the implant directly into the jawbone to support permanently cemented bridges. Implants can be made from several different types of metallic and bone-like ceramic materials that are compatible with body tissue. When surgically anchored into the jawbone, the implant fuses with living bone in a process known as "osseointegration". After your mouth heals, usually in three to six months, your doctor will place a permanent crown over the post to complete your smile restoration.
FAQs about Dental Implants
Do I really need to replace one tooth?
A missing tooth leaves a gap in your smile, which can make you feel self conscious about your appearance. As well, even one lost tooth can damage your oral health by causing other oral health problems. Dental implants can replace one tooth or the whole mouth full, giving you back a solid, healthy smile.
Am I a candidate for implants?
For successful implant placement, you need to be in good overall health, have good dental health, and sufficient bone structure. Your dentist will perform a full evaluation to see if dental implants would fit your personal situation.
How do I care for my implants?
Treat your implants like you would your natural teeth. Brush at least twice a day, floss regularly, and schedule routine checkups with the dentist. Following these steps will make for successful implant therapy and a gorgeous smile.
What are implant-supported dentures?
If you are not a candidate for dental implants to replace all your teeth, your dentist may recommend implant-supported dentures, which will create a more secure situation with your dental appliance. With implant-supported dentures, several titanium posts are placed in your jaw bone so that the denture can snap on to the implants, reducing slippage and improving comfort.
How much do dental implants cost in Round Rock, TX?
Because each case is unique, it is impossible to give an accurate cost of implants until you meet with your dentist. After a consultation and complete exam, your doctor will explain what is needed and review treatment options. From there that will include the cost of the implants and total treatment.
---
Top-Rated Dental Implants Dentist – Affordable Dental Implants in Round Rock, Georgetown, & Pflugerville, TX – #1 Dental Implants Near Me
$150 for an Exam, X-Rays, Regular Cleaning, and Fluoride – a $349 Value (*in the absence of gum disease)
Emergency Exam, and X-rays: $59
Free Consultation and $500 off
OUR LOCATION
NuYu Dental of Round Rock, TX
| | |
| --- | --- |
| Monday | 10:00 AM – 6:00 PM |
| Tuesday | 10:00 AM – 6:00 PM |
| Wednesday | 8:00 AM – 4:00 PM |
| Thursday | Closed |
| Friday | 8:00 AM – 4:00 PM |
| Saturday | Open Select Saturdays! |
| Sunday | Closed |