Dental Implants vs Dentures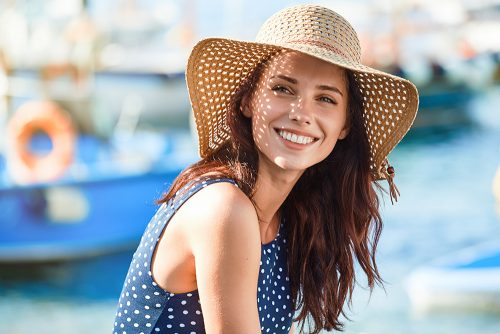 Dentures and dental implants are the two most common restorations for missing teeth. However, there are differences to consider between the 2 options, including comfort level, confidence level, cost and durability:
Comfort Level – Most denture wearers experience discomfort at one point or another because over time gum tissues tend to shrink leaving the denture with a loose fit. This instability can cause gum irritation and mouth sores. Adjustments are usually needed over the life of the denture due to gum and jaw bone shrinkage. To achieve the best fit, denture wearers must use messy dental adhesive. Upper dentures also have a tendency to affect the taste of foods because the palate is covered. On the other hand, dental implants are permanent, natural looking and very functional. Implants also offer the same force for biting as natural teeth and do not interfere with the taste of food.
Confidence Level – Dentures tend to slip, restricting the wearers ability to talk and eat. For a person with dental implants, he or she never has to fear these kinds of embarrassing moments. Properly placed implants are stable and function just like natural tooth roots.
Cost – Dentures can be fabricated quickly, are durable and cost much less than implants. However, the wearer's gums tend to shrink over time, and additional trips to the dentist are necessary for periodic adjustments and denture replacements. Dental implants can be a major investment as they cost more initially, but implants require no further adjustments, replacements or further trips to the dental office.
Durability – Although dentures are strong enough to last a lifetime, dentures do nothing to prevent the shrinkage of bone and gum mass, often resulting in the need for refittings or replacements. Gum and bone shrinkage also causes a change in the bite, and wear and tear of the denture chewing surface. Dental implants actually help preserve the patient's gum and bone mass. Implants are permanent, dependable and are a life long solution to missing teeth.
MOST INSURANCES WELCOME AND MAXIMIZED!
NEW PATIENT SPECIALS & FINANCING OPTIONS AVAILABLE.
Contact us and schedule your visit today.
The Proof is in Our Patients

"Best dentists I've taken my family to. They are very skilled and go the extra mile for every single patient. They definitely know how to make it an easy experience on the kids too. Each kid says, "I had a good time," at the dentist... Very comforting to have considering some of the horror stories we have experienced with other local dentists."
"Always courteous and friendly staff. The wait time getting into the Dentist is never long. The dentist will take the time to discuss what is going to be done. Also, they will help you relax if nervous about seeing the Dentist."
"When I started coming here I needed a lot done. What I love the most is how well everything is explained and broken down. We made a plan based on what was most important and I really appreciate that they take the time to do that. I have had nothing short of a great experience every time I'm here and the whole staff is friendly and amazing at what they do. If you're looking for a new place I highly recommend NuYu!!"
"NuYu Dental is great! The staff is super friendly & very helpful! Dr. Kim & the staff always make you feel that they have done their best to tend to you during your appointment."
$150 for an Exam, X-Rays, Regular Cleaning, and Fluoride – a $349 Value (*in the absence of gum disease)
Emergency Exam, and X-rays: $59
Free Consultation and $500 off
OUR LOCATION
NuYu Dental of Round Rock, TX
| | |
| --- | --- |
| Monday | 10:00 AM – 6:00 PM |
| Tuesday | 10:00 AM – 6:00 PM |
| Wednesday | 8:00 AM – 4:00 PM |
| Thursday | Closed |
| Friday | 8:00 AM – 4:00 PM |
| Saturday | Open Select Saturdays! |
| Sunday | Closed |