Teeth Grinding Mouth Guard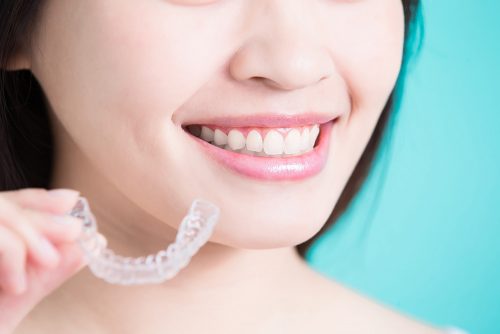 When you wake up in the morning, do you experience pain in your jaw joint? Do you have difficulty opening or closing your mouth? Do you have sensitivity in your teeth or do they look shorter? Do you get routine headaches? These could be clear signs of grinding or bruxing. If un-controlled, you can damage your jaw joint, your teeth or any dental work you have received from your dentist.
Reasons For Grinding
The exact reason for grinding is still unknown but there are some factors that are associated with this problem such as:
Stress and anxiety
Drug abuse
Excess use of Caffeine
Smoking
Excess use of alcohol
Some prescription medication
Mal-Occlusion or miss-bite
And finally some disorders such as:
Parkinsons disease
There is currently no cure for bruxing but it can be controlled. If you grind your teeth during the day or at night, your dentist will recommend a night guard to protect your teeth from these grinding forces.  A night guard is a plastic cover that fits over your teeth to deflect the hard forces of chewing. Night guards will also increase the longevity of your dental work.
Night Guard Treatment
During the first visit your dentist will take an impression of your teeth. This impression is then sent to a dental laboratory where a custom-fit night guard is made.
On your second visit your dentist will show you how to place it into your mouth and will adjust it to your bite.
There are different kinds of night guards from soft materials to harder plastic materials. Your dentist will recommend you the material best suited for you.
MOST INSURANCES WELCOME AND MAXIMIZED!
NEW PATIENT SPECIALS & FINANCING OPTIONS AVAILABLE.
Contact us and schedule your visit today.
The Proof is in Our Patients

"Best dentists I've taken my family to. They are very skilled and go the extra mile for every single patient. They definitely know how to make it an easy experience on the kids too. Each kid says, "I had a good time," at the dentist... Very comforting to have considering some of the horror stories we have experienced with other local dentists."
"Always courteous and friendly staff. The wait time getting into the Dentist is never long. The dentist will take the time to discuss what is going to be done. Also, they will help you relax if nervous about seeing the Dentist."
"When I started coming here I needed a lot done. What I love the most is how well everything is explained and broken down. We made a plan based on what was most important and I really appreciate that they take the time to do that. I have had nothing short of a great experience every time I'm here and the whole staff is friendly and amazing at what they do. If you're looking for a new place I highly recommend NuYu!!"
"NuYu Dental is great! The staff is super friendly & very helpful! Dr. Kim & the staff always make you feel that they have done their best to tend to you during your appointment."
$150 for an Exam, X-Rays, Regular Cleaning, and Fluoride – a $349 Value (*in the absence of gum disease)
Emergency Exam, and X-rays: $59
Free Consultation and $500 off
OUR LOCATION
NuYu Dental of Round Rock, TX
| | |
| --- | --- |
| Monday | 10:00 AM – 6:00 PM |
| Tuesday | 10:00 AM – 6:00 PM |
| Wednesday | 8:00 AM – 4:00 PM |
| Thursday | Closed |
| Friday | 8:00 AM – 4:00 PM |
| Saturday | Open Select Saturdays! |
| Sunday | Closed |