Preventative Dentistry for Children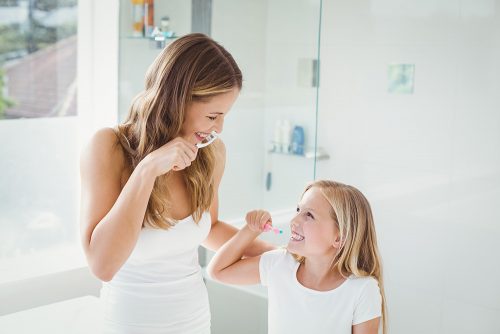 Dental prevention is just as important for children as it is for adults. Having a child start going to the dentist at an early age and regularly is a very important step in a lifetime of preventative dentistry. A typical program for children contains many steps, both in and out of the dental office.
These steps include:
1. Brushing, flossing and oral habits.
2. Application of fluorides and sealants.
3. Monitoring the child's dental development.
4. Sports safety.
5. Parent involvement and proper diet.
A healthy smile in a child can be maintained using preventative dentistry. Children with healthy teeth chew their food properly, and learn to talk more clearly and quickly. Preventative dentistry also minimizes future costly and extensive dental treatment for your child.
During your child's visit to the dentist, his or her teeth will be carefully examined and any dental issues diagnosed and treated. If necessary, the dentist will apply fluoride treatment and dental sealants to help protect the teeth from tooth decay. The dentist will also address any orthodontics concerns.
Tooth cleaning, fluoride and polishing are just a few parts of an entire prevention program for children. A pediatric dentist will also provide the application of dental sealants where necessary to protect children's teeth from decay, custom fit mouth guards to protect the teeth and mouth when playing in sports, and monitor your child's dental development as she or he grows. A pediatric dentist is specifically trained to create a combination of home and office preventative care to make sure a child maintains a healthy, happy smile.
MOST INSURANCES WELCOME AND MAXIMIZED!
NEW PATIENT SPECIALS & FINANCING OPTIONS AVAILABLE.
Contact us and schedule your visit today.
The Proof is in Our Patients

"Best dentists I've taken my family to. They are very skilled and go the extra mile for every single patient. They definitely know how to make it an easy experience on the kids too. Each kid says, "I had a good time," at the dentist... Very comforting to have considering some of the horror stories we have experienced with other local dentists."
"Always courteous and friendly staff. The wait time getting into the Dentist is never long. The dentist will take the time to discuss what is going to be done. Also, they will help you relax if nervous about seeing the Dentist."
"When I started coming here I needed a lot done. What I love the most is how well everything is explained and broken down. We made a plan based on what was most important and I really appreciate that they take the time to do that. I have had nothing short of a great experience every time I'm here and the whole staff is friendly and amazing at what they do. If you're looking for a new place I highly recommend NuYu!!"
"NuYu Dental is great! The staff is super friendly & very helpful! Dr. Kim & the staff always make you feel that they have done their best to tend to you during your appointment."
$150 for an Exam, X-Rays, Regular Cleaning, and Fluoride – a $349 Value (*in the absence of gum disease)
Emergency Exam, and X-rays: $59
Free Consultation and $500 off
OUR LOCATION
NuYu Dental of Round Rock, TX
| | |
| --- | --- |
| Monday | 10:00 AM – 6:00 PM |
| Tuesday | 10:00 AM – 6:00 PM |
| Wednesday | 8:00 AM – 4:00 PM |
| Thursday | Closed |
| Friday | 8:00 AM – 4:00 PM |
| Saturday | Open Select Saturdays! |
| Sunday | Closed |