TMJ Syndrome Treatment in Round Rock, TX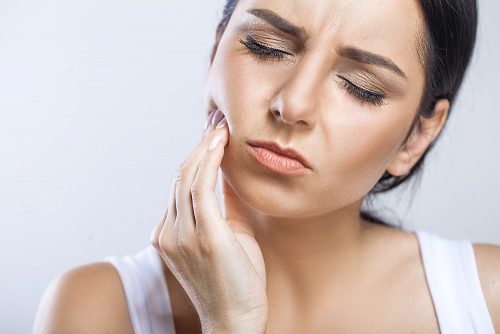 An estimated 10 million Americans suffer from TMD. Caused by strenuous physical activities, stressful situations, overuse of the muscles, and grinding of the teeth, temporomandibular disorder (TMD) results in discomfort  for people with this disorder This condition occurs because of dysfunction with the temporomandibular joint (TMJ), the joint that makes it possible to chew. This joint allows your jaw to open and close, and allows jaw movement forward, backward, and sideways. The TMJ only works properly if the lower jaw and its movements are synchronized.
What is TMD/TMJ?
TMJ, also called TMD, affects jaw muscles, the temporomandibular joint, and nerves where movements become out of synch, which can lead to headache or neck pain. It can also result in sensitive teeth, injured soft tissues, muscle soreness, and jaw discomfort. Other symptoms include ringing in the ears, facial pain, difficulty opening and closing your mouth, and jaw locking when talking, yawning or eating.
Getting Help
Your dentist can recommend treatment for TMD. A nighttime mouth guard can help stop the teeth grinding. More severe cases can treated with physical therapy, ice and hot packs, and posture training. TMD is usually cyclical and may return when the patient experiences stress.
Questions about TMD
Can't I just use a store-bought mouth guard?
If your dentist determines that you need a mouth guard, you need an appliance that fits your specific bite. Using any other device can actually do more harm than good.
Is surgery my only option for TMD treatment?
In about 95 percent of cases your dentist can recommend non-surgical treatment for TMD. Strengthening exercises, massage therapy, reducing stress, and mouth guards are a few of the options available to decrease symptoms and relieve your discomfort.
What causes TMD?
When your TMJ are out of sync, the associated muscles get fatigued and the nerves become strained. Common causes of TMD include stress, trauma, teeth grinding, arthritis, improperly fitting dental work, and posture issues.
---
TMJ Dentist in Round Rock, TX – TMJ Syndrome Treatment Near Me – Top-Rated TMJ Dentist Near Me in Round Rock & Pflugerville
MOST INSURANCES WELCOME AND MAXIMIZED!
NEW PATIENT SPECIALS & FINANCING OPTIONS AVAILABLE.
Contact us and schedule your visit today.
The Proof is in Our Patients

"Best dentists I've taken my family to. They are very skilled and go the extra mile for every single patient. They definitely know how to make it an easy experience on the kids too. Each kid says, "I had a good time," at the dentist... Very comforting to have considering some of the horror stories we have experienced with other local dentists."
"Always courteous and friendly staff. The wait time getting into the Dentist is never long. The dentist will take the time to discuss what is going to be done. Also, they will help you relax if nervous about seeing the Dentist."
"When I started coming here I needed a lot done. What I love the most is how well everything is explained and broken down. We made a plan based on what was most important and I really appreciate that they take the time to do that. I have had nothing short of a great experience every time I'm here and the whole staff is friendly and amazing at what they do. If you're looking for a new place I highly recommend NuYu!!"
"NuYu Dental is great! The staff is super friendly & very helpful! Dr. Kim & the staff always make you feel that they have done their best to tend to you during your appointment."
$150 for an Exam, X-Rays, Regular Cleaning, and Fluoride – a $349 Value (*in the absence of gum disease)
Emergency Exam, and X-rays: $59
Free Consultation and $500 off
OUR LOCATION
NuYu Dental of Round Rock, TX
| | |
| --- | --- |
| Monday | 10:00 AM – 6:00 PM |
| Tuesday | 10:00 AM – 6:00 PM |
| Wednesday | 8:00 AM – 4:00 PM |
| Thursday | Closed |
| Friday | 8:00 AM – 4:00 PM |
| Saturday | Open Select Saturdays! |
| Sunday | Closed |